Administrator
Staff member
Hello everyone, I been informed that the Marketing Team is summiting a new proposal (Creative Marketing 2020), this new proposal is very important for the PIVX community, and I'm very excited about the new route the marketing team is taking.

And because of the tight budget, I decided to drop my proposal in order to support this new proposal and their efforts.

I would like to thanks to all MNO that supported me and my team, and I hope you give the same support to the PIVX Marketing Team, thanks for all the votes and the love. We will back soon
.
Code:
Title: PIVX Spanish Team 20 V3
Name: PIVX-Spanish-2020V3
Term: 3 Cycles
Cycle Amnt: 2134
Total Amnt: 6402
Author: ONeZetty
Receiver:ONeZetty
Address: DSzG5536FY81tjxJkAXmHJxEsncQWeQyxT
Status: Active
PIVX Foundation: Able to KYC to receive
Hi, I'm Zetty, this is the Proposal for the next budget of the PIVXpress in Spanish, PIVX Community in Spanish, PIVX News In Spanish, and the Social Media for August, September, and October 2020.
My last proposal wasn't fully funded by the DAO because the budget was too tight
,
we only got April
, but I received a lot of the support from PIVX community (tons of Love) so thank you very much for the great support to all the PIVX community, MNO, developers, marketing team, Devs and all the PIVX family.
Please click HERE, to check the report of my last proposal, with the basics results of my last proposal.
Some people are asking about why we need a person for every social media account, and that we can have software to post "all in one". To be honest, I have no idea how to use those tools,
I'm not a marketing expert
, or even have any experience on the marketing industry, I just a PIVian, I start to make some noise and some people joined me for free, so one day I decided to give some PIV for their effort because I thought they deserved it.
Let me explain the most
controversial
point of my proposal:
Trading Analyzer
, I really need some that do this on Spanish, no one do it,
almost all Spanish traders talk about only the top 10 cryptos
, I'm not a trader and I'm not qualified to talk about trading analytics, and MichaelMitnick does great, not only on social media but in the Telegram PIVX Spanish Chat, and on his own video channels.​
Facebook
, 3 months ago we don't even publish there, now Anirak is in charge of that task, and yes she is learning and improving, some people claim we don't have any "contact", and is yes that is true, at least we have posted now, is never going to be enough, but we are starting, again she got 150 PIV per month for this task budget, and make it for free all JULY. We are having like 3 or 2 "likes" per post, I think is great, based on the Facebook restriction for cryptocurrencies, and those are not paying likes. But according what I been reading if this social channel does not give any results next month, I will stop it, and I will donate it to charity on behalf of PIVX, and I will not ask more PIV for Facebook anymore.
​
​
HIVE, this is the first time we are going to ask budget for a writer on HIVE, Way HIVE? Well is a great place to reach Spanish speaking people but takes time, there are a lot of communities from all Latin America. I found a writer for a great price she, I pay with my own money some post and I think she has taled I think, remember till now only I been publishing and yes I'm a terrible writer. This is a good example of her job:​
Para esta edición de PIVXProse, Roberts DeVoe se aleja por completo de noticias sobre el próximo lanzamiento de la… by pivx.espanol

hive.blog

PIVX Prose: ¿Estamos Mejor Preparados Para La Incertidumbre Financiera Gracias A Las Criptomonedas? PIVXProse es… by pivx.espanol

hive.blog

"Necesitas conocer el pasado para comprender el presente y prever el futuro." (V.G. Belinsky) Como habrás… by pivx.espanol

hive.blog
All other posts you are able to saw were made by me, and of course, those don't have any marketing value. ​
​
No one in my team is "expert" on social media, and I can't provide any "
analysts of the metrics
" beyond what I already published. But all the channels are open to audit, so if someone of the community wants to hire some expert and make a professional metrics analyzer, I always been open, those are NOT and NEVER been "my accounts", the PIVX community own it.
But I would like to make a statement:
​
I have been insulted, "he" has nicknamed me and have even involved my nationality as a method of pressure towards me in commenting on my proposal, even I have been suggested then I should "rip off the Team", but I not going to do that, I believe in my team, and they believe in me. I love PIVX but no amount of PIVX will make me leave my friends.​
They said I'm too emotional, and yes is part of the Latin charming style, we always have a passion for what we do.
As always I will continue to be in charge to measure the quality of the information, the videos, and all the post, and I will make some corrections if it is needed. And yes I will lead this team, but if any member decides to abandon the project or make their own proposal, they will receive
my full support and my guide to do it.
And in that case, I will look for a substitute and save those PIV for it or those would be donated to the charities in behalf of PIVX.
In this new proposal the PIVX Spanish Team grew to 10 members:
MariiChuy
Ddaeng
SamGiset
Niklaus22
Memes777
ElenaCC
Brithany
Anirak
MichaelMitnick
ONeZetty
I'm asking for
6402
PIV or
2134 PIV monthly
for 3 months:
Code:
600 PIV for Michael Mitnick, Spanish Influencer and Trading Analyzer
600 PIV for MariiChuy, Spanish PIVX Instagram
600 PIV for ONeZetty, Spanish PIVXpress in Spanish
450 PIV for Ddaeng, Spanish PIVX HIVE Blog
450 PIV for Anirak, Spanish PIVX Facebook
600 PIV for ElenaCC, PIVX Community Videos
600 PIV for Brithany, PIVX News Videos
600 PIV for SamGiset, host of the SQP Videos
600 PIV for Niklaus22, Graphic designer
450 PIV for memes777, Support in Social Media and the Forum
600 PIV for ONeZetty: Video producer, editing and upload the videos and management of the Spanish team
200 PIV for Giveaways and tips to the community
VOTE NOW!!!​
​
LOVE
:
Code:
mnbudgetvote many 920d8720dd38acdc2b09f3fcce821558ec8dcc6ac84c4d9cb30a03764308b8a1 yes
​
MEH
:
Code:
mnbudgetvote many 920d8720dd38acdc2b09f3fcce821558ec8dcc6ac84c4d9cb30a03764308b8a1 no
​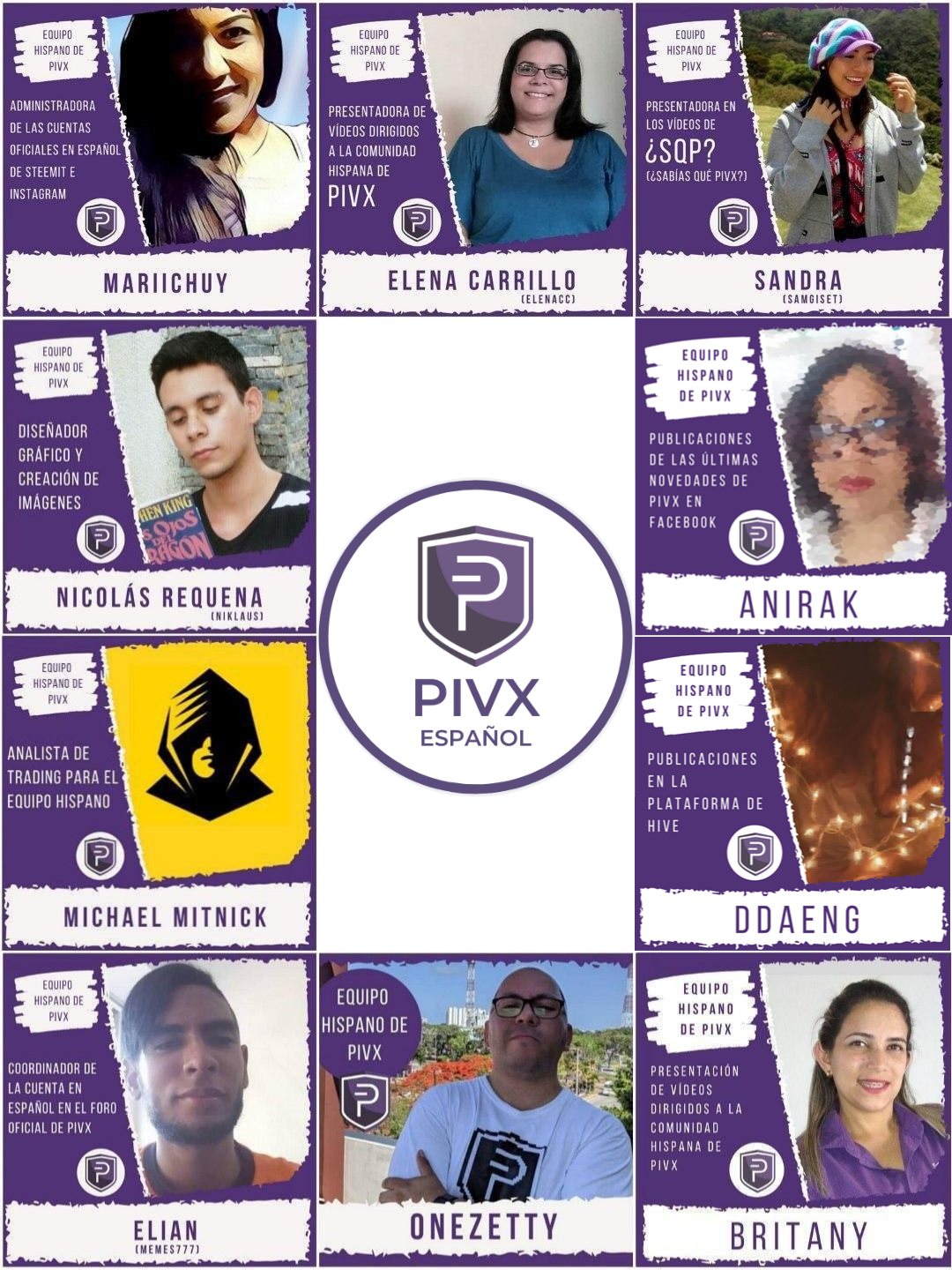 Check our links:
Feel free to make you your comments, but I will not respond to the hate anymore. Thank you very much. Please VOTE
, yes
or not
doesn't matter, the only important is PIVX.
ONeZetty
Last edited: