Administrator
Staff member

Code:
Title: PIVXxFinchPay
Name: PIVXxFinchPay
Term: 1 Cycles
Cycle Amount: 42,623
Total Amount: 42,623 PIVX
Author: Jeffrey
Receiver: Jeffrey
Address: DTx3w6dFScmKf2CACBrDYfrbuRKXtFnYCU
Status: Active
Vote Hash: 13238439cf8ccfc4d39fa2d192d5ef2142f315be55617d6d13b93df65c7ef180
Hi Everyone,
I have been in discussion with FinchPay for some time. They are a EU regulated onramp and soon to be offramp solution. They offer users the ability to buy cryptocurrency with a debit card up to 500 euros without KYC. Finchpay has also with their partnership offered to include a full integration into Arctic Wallet for free. We are also receiving a Discount rate for the total integration.
So essentially this will include:
Buy PIVX with Bank Card on FinchPay
Sell PIVX on FinchPay (soon)
Store PIVX on non-custodial Arctic Wallet
Buy PIVX directly in Arctic Wallet
Key Features of this proposal: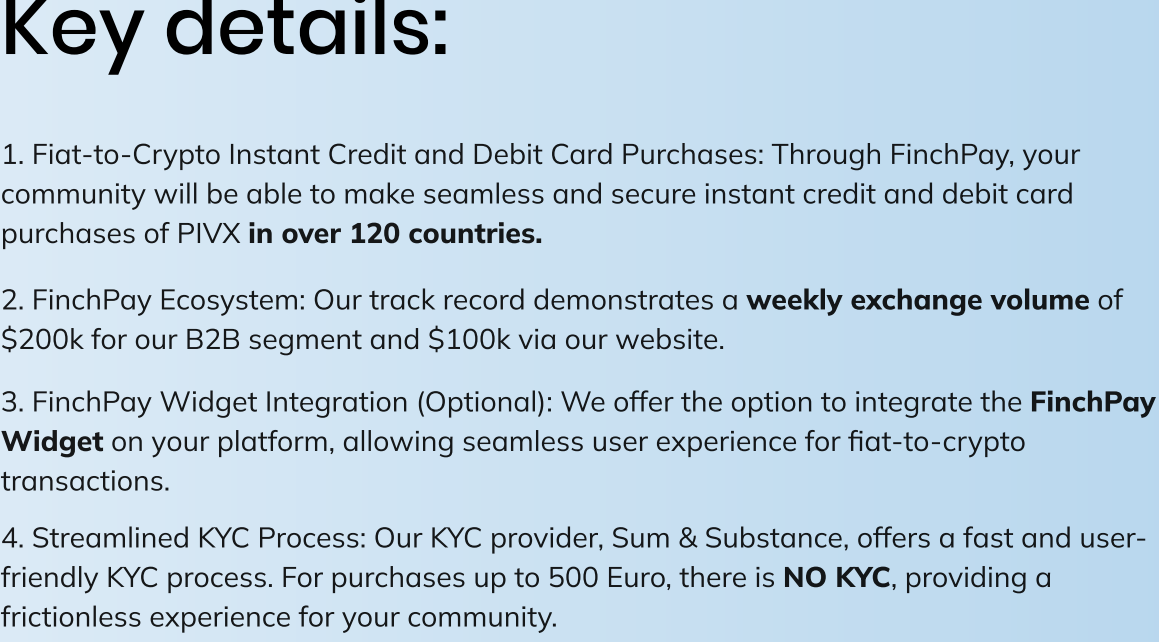 FinchPay is also integrated into swap sites such as ChangeHero which will allow an offramp solution on their website for PIVX.
Total cost is $8000
Due to volatility and the fees involved in trading/transacting I will add an additional 10% ($800) on top of this. Remaining funds will be used towards other proposals that may not meet funding due to issues such as volatility.
Cost - $8800

I will also be asking for my 50 PIVX back in submission fees.
Total -
42,623 PIVX
Voting Details:
To Vote YES for this proposal:
Code:
mnbudgetvote many 13238439cf8ccfc4d39fa2d192d5ef2142f315be55617d6d13b93df65c7ef180 yes
To Vote NO for this proposal:
Code:
mnbudgetvote many 13238439cf8ccfc4d39fa2d192d5ef2142f315be55617d6d13b93df65c7ef180 no
Last edited: