Administrator
Staff member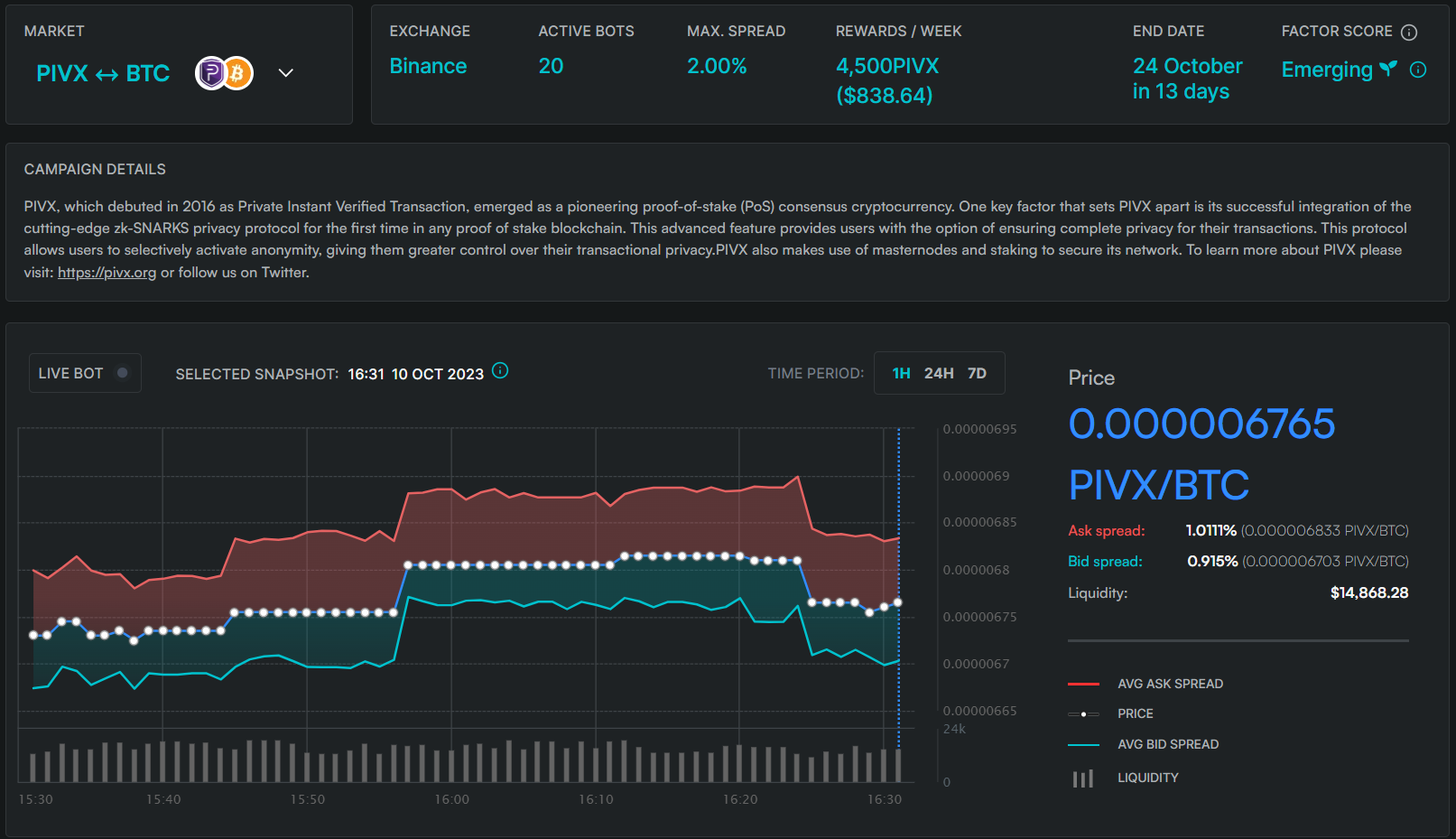 Our existing market can be found here -
https://miner.hummingbot.io/market/76
Code:
Title: HummingbotRenew
Name: HummingbotRenew
Term: 1 Cycle
Cycle Amount:  62,750
Total Amount: 62,750
Author: Jeffrey
Receiver: Jeffrey
Address: D7GhWtjySyJHZivyVkcKVsap5q3sChzqvP
Status: Active
Vote Hash: fa9f469636a1e8ae6914b71f82b84a8fb0714b6464dc417dfdf62bc329cb784b
Hey everyone!
So as of now our campaign has been running for a period of roughly 6 weeks with 13 days remaining. During this time PIVX has had a very improved liquidity situation on Binance. This has allowed more trading to occur as the supply and demand can be met without affecting pricing drastically. If we can maintain decent liquidity on Binance this further improves our chances of getting a USDT pair back on Binance.
The purpose of this proposal is to renew the campaign for another 8 weeks on PIVX/BTC pair on Binance. Should this one be a success I plan to open a longer period one that will give more rewards in both PIVX and the native crypto of Hummingbot, HBOT tokens.
Miners on Hummingbot have traded over 1.5 million dollars worth of PIVX on the PIVX/BTC pair during this time.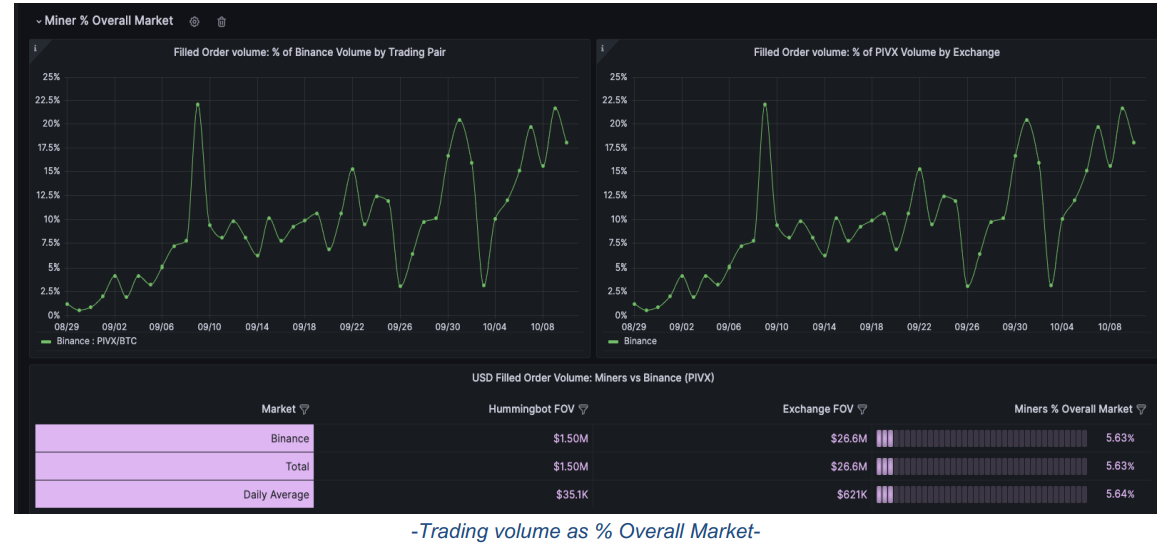 Some information provided from Hummingbot:
During the period under analysis, PIVX's Hummingbot Miner campaign was among the 3 top performing campaigns, averaging 15.5 active bots, $9.93k in Open Order volume (liquidity within the 2% spread) and $35.1k in daily Filled Order volume (daily trading vol.), which accounted, in average, for almost 6% of total traded volume for PIVX/BTC onBinance. More than $1.5M was traded by Miner users since the start of the campaign. At the time of this writing, all of these numbers are trending upwards, with 22 active bots, over $17k in liquidity and Miners accounting for 15% of all traded volume.
About Hummingbot (As taken from their website):
Hummingbot Foundation is a not-for-profit organization established in the Cayman Islands. The Foundation's mission is to democratize high-frequency trading by maintaining the open-source Hummingbot code repository and the HBOT governance system.
Since we open sourced Hummingbot in 2019, it has become the
leading open source market making bot
, used by token projects who want to own their liquidity, smaller trading firms, as well as individual traders who run bots to earn liquidity mining rewards.
Currently, Hummingbot is evolving from a simple market making bot into a powerful open source platform that helps you
create, backtest, deploy, and manage a fleet of bots
running any algo trading strategy. Our main repos now include:
hummingbot: Python-based core trading engine and exchange connectors
gateway: Typescript-based middleware that helps Hummingbot connect to DEXs and blockchain networks
dashboard: Streamlit-based dashboard for backtesting, deploying, and managing Hummingbot instances
You can view the campaign portal here -
https://miner.hummingbot.io/

Funding:
This will include my 50 PIV back in submission fees.
4500 PIVX / Week * 8 weeks = 36,000 PIVX
500 x 8 for service fee ($4000) = 21,000 PIVX
I will also add 5700 PIVX (10%) as a buffer due to market fluctuations, liquidity based pricing as well as exchange and transfer fees.
Total = 62,750 PIVX


Voting Details:
To Vote YES for this proposal:
Code:
mnbudgetvote many fa9f469636a1e8ae6914b71f82b84a8fb0714b6464dc417dfdf62bc329cb784b yes
To Vote NO for this proposal:
Code:
mnbudgetvote many fa9f469636a1e8ae6914b71f82b84a8fb0714b6464dc417dfdf62bc329cb784b no
Last edited: