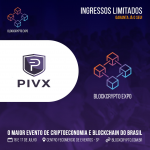 Last year PIVX Portuguese had a representative at the BlockCrypto 2018 event where the Portuguese community began, which now has 380 people in the Telegram and 669 followers on the Instagram with several pesosos learning daily about PIVX.
BlockCrypto 2019
will have the presence of Strategy Manager Binance and several other speakers known nationally, the event will be in São Paulo the largest crypto capital of Brazil and will have the presence of more than 1000 thousand people.
It is proposed and for PIVX to have a half page in the media kit of the event, where we will be exposed to all those present who will be able to learn more about the project and join the Portuguese community, it will be two days of event that PIVX Portuguese is constantly connection with several people from the crypto market, we will have some interview with the presenters and speakers present, that will be subtitled in English.
Costs for the two event days
-Travel cost for São Paulo and for the event
-2 Ticket
-T-shirt
-Half Page
-Food
-Giveaway 45 PIVX that will be given to the people we talk to
BUDGET SUMMARY
PIVX Português BlockCrypto2019
TOTAL: 1387 PIV/ 1 month
Proposal Name:
PIVX-BlockCrypto2019
To vote YES
mnbudgetvote many 7605aa9d59c272a13d2f8ecc890a446432299bee008b7fafe73b5908763a2312 yes
Site event:
https://blockcrypto.com.br/
Last edited: