Code:
Title: AllianceZNZ2
Name: AllianceZNZ2
Term: 1
Cycle Amnt: 50
Total Amnt: 50
Author: Cryptosi
Receiver: Cryptosi
Address: DUCGQ3GTTa3SviQ8GeNMwdivVfCR8Mn9iC
Created: 19th September 2020
Status: Proposal
PIVX alliance recently expired and we have discussed adding a second year to alliance and continuing to benefit from working closely with this impressive project which is also a fork of the PIVX codebase.
What is Zenzo?
The grand goal of ZENZO is not only to empower both gamers and game developers, but help to push for the
mass adoption of blockchain technology and cryptocurrency in the gaming industry.
Why are we proposing Alliance again?
This alliance is intended to not only bring more attention and awareness to PIVX as a whole, but bring more use cases to the PIVX
Cryptocurrency. ZENZO also utilizes a large portion of the PIVX code base, showing the versatility of the technology for different use cases
and solutions.
Key deliverables
Zenzo:
Key deliverables from ZENZO are social media support, additional marketing of big and important releases/announcements, continued
maintenance of Discord channels, contributions as they come to the PIVX Core code base, additional development product testing (enhanced
testing with a team familiar with the technology), an introduction of PIVX to the gaming industry, shared networking & business development.
PIVX:
Shared support of relevant social media, additional marketing for important ZENZO releases/announcements, shared networking & business
Development.
Reporting Procedure:
No mandatory updates or "status reports", but both privately and publicly the ZENZO Envoys can be contacted at anytime.
PPL : Proposal promotion level
Social Media Engagement on both PIVX + PIVX Community Twitter Accounts. 1+ Year of #zenzo_alliance channel in PIVX Discord. PIVX Core
Code base on GitHub.
You can also listen to the public Alliance development call with Cryptosi and Yuurinbee which took place in the PIVX discord here:
Alliance length:
12 months
Alliance Envoys: Points of contact regarding the Alliance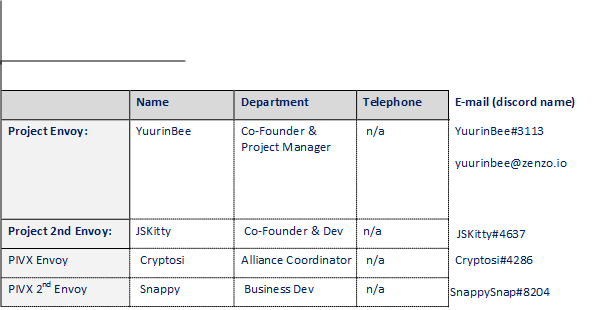 For full information please view the Alliance document saved here on steemit in IMMUTABLE FORM:
https://steemit.com/pivx/
@Cryptosi
/pivx-zenzo-alliance-proposal-documentation-cryptosi-and-yuurinbee-sept-2020
Here is some information about my past proposals:
PIVX Tutorials (PASSED)
QT Frontend Development (PASSED)
Alliance Funding (Passed)
Tango governance portal - test site - (PASSED)
PIVX/PARTICL Alliance (PASSED)
PIVX Store Proposal (PASSED)
-- pivx.store
PIVX/Merge Alliance (PASSED)
Voting Information
AllianceZNZ2;
hash= a0b4fbd3d401df20c7f726fed405c959296e7dfc38c5a2b283a3dbecdb87518c
"mnbudgetvote many a0b4fbd3d401df20c7f726fed405c959296e7dfc38c5a2b283a3dbecdb87518c yes" to vote in favor
"mnbudgetvote many a0b4fbd3d401df20c7f726fed405c959296e7dfc38c5a2b283a3dbecdb87518c no" to vote against
"getbudgetinfo AllianceZNZ2" to check the status
Last edited: